Many authors say that they wanted to be a writer when they were young. I don't think I was one of them. But I did want to be an artist. I had the crayons and the paint box, and even the Cray-Pas Oil Pastels, those smushy crayons that somehow made you more of an "artist" than just plain Crayolas.
Paint by number was cool. So was copying other artist's designs, until I learned that tracing wasn't really allowed outside of my basement. I turned to writing when I made the yearbook staff in high school, eventually being named co-editor my senior year. Although there was some writing involved, most of what I did was organize others to make sure the deadlines were met. Back then we didn't have computers and every layout was completed the old-fashioned way by cropping pictures, typing text, and gluing both down on grid paper.
When I arrived at college to study hotel and restaurant management, which was my parent's suggestion, I ran into a roadblock for what I thought would be my future career. Because this major involved food, I was forced to study chemistry. English and history were more my thing, so chemistry didn't go well. Yes, we all have our strengths and weaknesses. So I turned to journalism and public relations. Bingo, just what I needed. I loved being sent out with the assignment of generating several ideas, writing about one, and turning it in during one four-hour class.
I ended up attending graduate school for an MBA because jobs in the early 80s were tough to find for someone with little experience. I married my college sweetheart and moved to St. Louis, Missouri. When I was finally out in the open job market, I found myself as a research analyst with a large advertising firm. I sat in smoky dark focus group rooms listening behind a one-way mirror to people talking about cat food, or beer, or white bread, or telephones. I analyzed data from surveys and wrote hundreds of reports about what people thought and felt.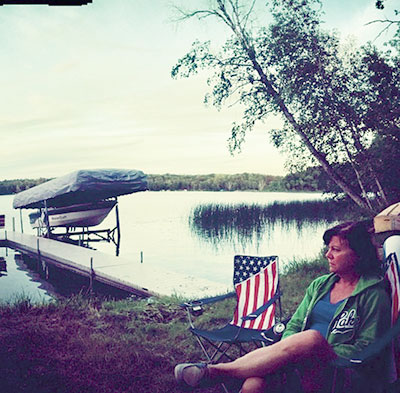 Enjoying summer's best at our lake cabin.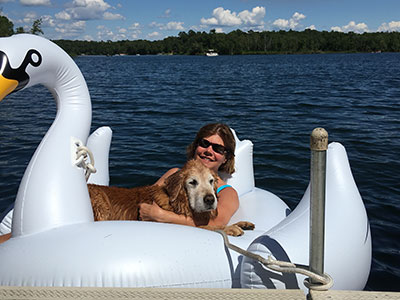 Our previous dog, Stanley, loved being on the water.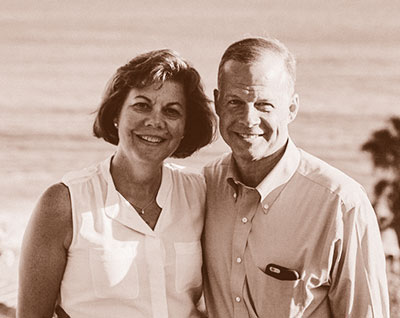 Susan and Rob
After that I worked in marketing and finance at McGarvey Coffee, the family business in Minnesota; and shepherded our three kids through school. One day in my daughter's mother-daughter book club and after reading stories to my children for years, I realized writing for children was something that I needed to try.
I had written in other areas for years and was ready for a new challenge. The time was available to me since my kids were in school. But where to start, and could I do it? With many doubts, I attended a few local conferences and joined a writing workshop. I wrote and received rejections for quite a long time. People kept saying that perseverance was the key, but when I had a submission list about 12 pages long (single-spaced) and no acceptances, I didn't know how long I could persevere.
But then, Appleseeds Magazine liked one of my pitches, and later Faces Magazine did too. I was making progress! I entered the master of fine arts program in writing for children and young adults at Hamline University.
Two years later, many books read and many typed pages later, and I had my degree. It wasn't the degree so much but the experience of writing. Every day. For several hours. At night. In the morning. What is it they say? Practice makes perfect. Well, I'm not at all perfect, but no one can say I didn't practice and work hard. My journalism background has led me to focus on nonfiction, but I also work on picture books and middle grade novels.
Louis Pasteur said, "Fortune favors the prepared mind." There is good fortune or good luck to writing; placing the right manuscript in front of the right editor or agent, but hard work and a stick-to-it attitude carries more weight than talent or luck. Securing an agent certainly helped, someone believed in me. Still, I put the time in and when my editor at Chicago Review Press accepted my nonfiction proposal, I was thrilled. The work was hard, and I learned a lot through trial and error, but isn't that what life is?
In my spare time I like to read, of course, and walk the neighborhood, search antique stores, and complete fix-it projects with my husband, Rob. I am also on the board for the Friends of the Edina Library where I volunteer at our library's book sales and as a hospitality co-chair for library events. Up in northern Minnesota we have a cabin where we go for nightly boat rides with our adult children, two sons and a daughter, and Hobbes our golden retriever who will sit patiently on the dock just waiting for the next lake cruise.